I stumbled across the memorabilia industry in 1996 when I spent some time visiting relatives in the United States. I was a huge Michael Jordan fan, and like most, I dreamt about seeing the Bulls play at the United Center, and meeting Jordan to get an autograph. I didn't manage to meet him that winter, but I was lucky enough to see the Bulls play at home against the Knicks, what an experience that was.
At the time I never knew the memorabilia industry existed until a friend suggested we go to a local memorabilia show. WOW! I had never seen anything like it, an arena bigger than a football field, packed with businesses selling autographed memorabilia. I immediately thought of the opportunity back in Australia, after all, everyone including myself are sports crazy, and to my knowledge there was nothing like this at the time. I immediately knew that this was for me. I didn't have a real understanding of the industry at that time, so I dedicated myself to learning as much as possible. I traveled extensively within North America, visiting many memorabilia shows and developing many relationships along the way.
It was in 1997 when I was only 20 years of age, that I was given the opportunity of a lifetime. To meet Muhammad Ali during a private signing session and obtain all of my signed pieces in person. This opportunity also led to me becoming Muhammad's exclusive Australian distributor, an honor which I held over a ten year period. There were many things that led to this, but I believe most of all, it was my passion for the industry and my honesty which was transparent to the relevant people.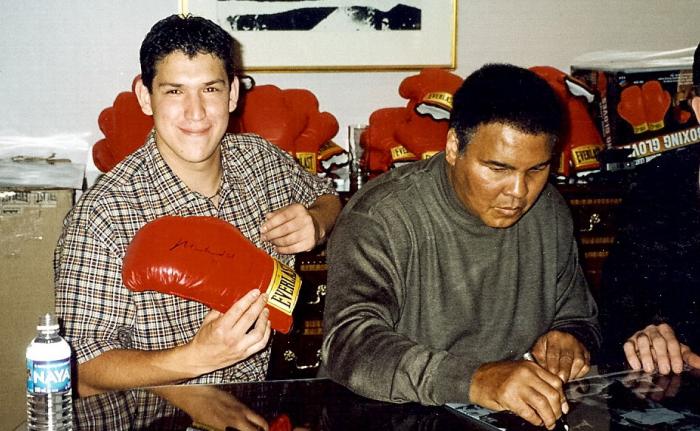 That same year I began selling a small range of memorabilia (including Muhammad Ali's) at wholesale to the franchise "Superstars & Legends" in Australia. I guess the industry existed after all, but it was very small at the time. I was one of the few that made their approved suppliers list. The range of American memorabilia that I had available was selling well, but in order to continue growing the business in Australia, I had to sign some Australian talent, bring on Peter Brock, a true Australian legend.
From the moment I discovered the industry, I always had the belief that the business could be successful worldwide, and that's why I felt it important to sign an Australian athlete who competed on the world stage. I was a motor-racing fan, so at the time there was no better choice than five-times 500cc World Champion, Mick Doohan. I made contact with Mick's management, and it was not long after that Autographed Collectables completed its first signing with Mick in San Francisco.
To target Mick's fans, Autographed Collectables set up a shop at the 1999 Phillip Island Grand Prix. For the first time ever a range of 100% Officially Licensed Mick Doohan autographed memorabilia was available for sale. These items, coupled with our other range of collectables made for a great weekend, race fans snapped up our product and we were finally off and running, or should I say racing!!
Shortly after I was contacted by the 1987 500cc World Champion, Wayne Gardner. He asked If I was interested in releasing a signed piece? I couldn't believe it, the business continued expanding from there; In 2000 we signed Valentino Rossi (the first commercial signing he had ever completed) Garry McCoy in 2001, Troy Bayliss in 2002, Andrew Pitt, Casey Stoner in 2002 (the first commercial signing Casey had ever completed), Colin Edwards in 2002, Nicky Hayden in 2003 (the first commercial signing Nicky had ever completed). Autographed Collectables then moved into Formula 1; Juan Pablo Montoya, Fernando Alonso, Kimi Raikkonen, Mark Webber, and Rubens Barichello all signed for Autographed Collectables during 2003, 2004 & 2005.
As our client list increased, so did the number of international events that we attended. Customers from all over the world had the opportunity to see and buy our range of 100% authentic memorabilia in person. The support that we continue to receive from our customers worldwide has enabled us to grow and offer the product selection that we currently have available today. I have many great relationships with customers from all over the world, and I can't thank everyone enough for their loyal support.
I am very proud though to say that Autographed Collectables has become a trusted and respected name worldwide when it comes to Official Licensed, Motor Racing memorabilia. Our commitment to producing the highest quality and 100% authentic memorabilia has enabled us to gain the respect & reputation in the industry that no other company can boast of. This coupled with the relationships that we have forged with the top riders, drivers, management agencies, and photographers in the sport, all lead to a product selection that is the best in the world.
I feel privileged to say that some of the world's greatest sports stars have selected Autographed Collectables to exclusively handle their range of autographed memorabilia. Over the years, these have included Valentino Rossi, Chad Reed, James Stewart, Michael Doohan, Mark Webber and Muhammad Ali in Australia. Autographed Collectables also has a strong affiliation with some of the most reputable memorabilia companies in the world who produce some of the most sought after collectibles, from the world's greatest athletes. Michael Jordan, Lebron James, Tiger Woods & Wayne Gretzky to name just a few.
In an industry that is unregulated, I am proud to say that Autographed Collectables is selling a range of memorabilia which is unquestionably 100% Authentic. When you purchase an Autographed Collectables authenticated product, you are purchasing a genuine signed piece of memorabilia. (To read more about our authentication process, please view our Authenticity page). I look forward to meeting our new customers, race fans and seeing my regular customers at the same events that I have seen you all at since 1999.
I was a keen tennis player growing up in Adelaide, South Australia. Every year Adelaide played host to the Australian Open warm-up events, the South Australian Men's Hard-court and Rio International. Stefan Edberg, Pete Sampras, Boris Becker, Jim Courier, Michael Chang, and Goran Ivanisevic were all yearly draw cards. As a young teenager I was one of the kids collecting autographs, not to sell, but just for my bedroom walls. I still have these today, and how ironic that I have made a living from the autograph industry since 1996.
Sincerely
MIGUEL RAMOS
Founder & CEO
I should also mention that I finally met Michael Jordan at a private party during the 2005 Valencia MotoGP in Spain, what a moment!!